How do I start using iRemember?
How do I use the Cap and App?
Do I need to replace a battery?
Nope, power it with any microUSB, even a powerbank.  A 3 hour charge will last a week. We suggest a routine of charging cap when refilling pills, usually Sundays.
Do I need a phone to use iRemember?
Nope, device works by itself. 
The cap provides a talking menu, which may be set to repeating timer intervals of 24 hours, 12 hours or 6 hours for once, twice and thrice daily medicine schdeule. When you finish taking pills or take them as needed (PRN), simply set timer to Clear. Made to be, set it and forget it, since every time cap is opened, timer restarts automatically. When timer ends, iRemember provides an elegant water drop effect and voice quality message "pill time." Water drop reminder play every 30 seconds and reset when cap opened or you may skip dose (pause reminders unitl next timer interval) by pressing Status button.  
Did I take my pills?
iRemember answers this question well. By pressing Status button, Cap will show Green light if OK or Red light if dose missed and speaks Last Opened message, providing relevant actionable information. If you wake from sleep, check cap, see green light and hear  "last opened 2 hours ago", you'll know. Our color signals are similar to universally understood traffic lights, green means go and red to stop. Just as traffic lights help prevent vehicle accidents, iRemember lights help prevent underdosing or overdosing.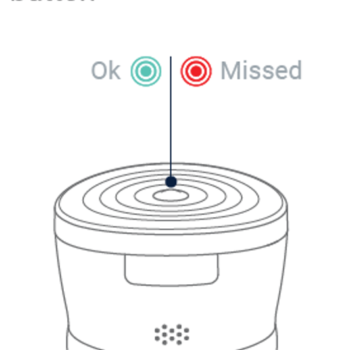 Can I use it with multiple medicines? 
Yes, multiple meds and multiple doses may be organized with compartments / dividers.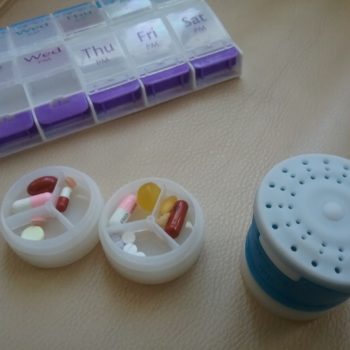 Are the lights

easy

to see?
Yes, fiber optics provide soft elegant colors for better visibility and communication.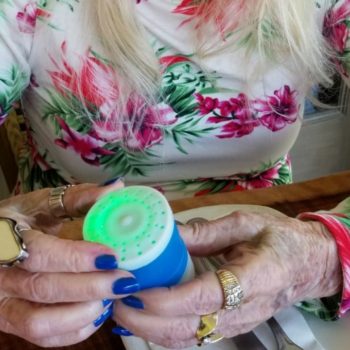 What are the Tech Specs?
Size, Weight, and Color
Dimensions:
5.5 inches high (140 mm)
2.2 inches wide (55 mm)
Weight: 0.25 pounds (112 g)
Color: Blue / White
Surface
Short press Status button for Last Opened (green or red)

Long press Status button turns on Bluetooth (blue light)

Longer press Status button turns off Bluetooth (magenta light)

Short press Sound button: Flight mode, Sound off, Sound on

Short press Timer button to playback current setting

Long press Timer button and release button for desired setting: Clear, Demo, 24 hours, 12 hours or 6 hours
Accessibility
Assistive technology with color lights and talking user interface. Braille labels, enable people with disabilities to get the most out of iRemember.
Features include:
Voice Menu

Ample light effect

Touch Buttons
Wireless
Bluetooth 4.1 Low Energy

CSRMesh technology
System Requirements
Phone not required

iOS 10.0 or later

Android 4.3 and up
Electrical and Environmental Requirements
Built-in 700 mAh Lithium polymer battery

MicroUSB for charging (3+ hours every 7 days)
In the Box
iRemember Talking Pill Cap and 7 Compartments

USB Wall Charger

User Guide

Labels
May I use liquids with iRemember?
No, liquids are not permitted.
What is your return policy? 
Return any of our products within 30 days of purchase.
Do you ship oversees and to P.O. boxes?
Yes, we'll ship your package anywhere that can accept deliveries. Buyer is responsible for custom duty and fees.
Do you have customer service?
Of course! Our friendly and knowledgeable customer services reps are available to answer your questions 24/7/365.